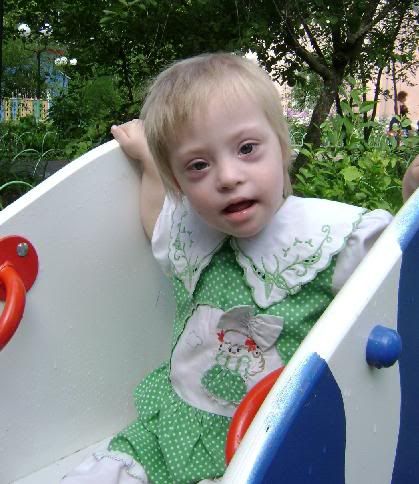 This is
Olga
. Doesn't she have the sweetest little smile? She is facing imminent disaster, though. She is almost to the age when she must leave her orphanage and be placed in a mental asylum. The children often do not live long after being transferred. It's a horrible system. The only hope of escape is foreign adoption.
Lily's momma, Patti, has been struck with Olga. She would love to adopt her herself, but doesn't meet the requirements. The Lord inspired her, though.
Through a give-away
, she is raising money to get Olga adopted. In just a week, she has raised over $5000 to help a qualified family adopt Olga. Are you that family? Could you welcome Olga and her beautiful, innocent heart into your family? If not, can you come alongside Patti and hundreds of others to help get this child of God to her forever family before it is too late? You may win an I-Touch or another gift, but that is hardly the point. You can help this little child of God in a very real way. What a privilege!