I scored six Ravensburger games, all but one unopened, for $2.50 at Just Between Friends. They are authentic, too. Most do not have English instructions!
Kinder Memory is easy, of course. In fact, Missy, Troubles and I have already played a game.
Halli Galli Extreme has English instructions, so it will be the next one we try. It seems to be the most complicated of the lot.
Lotti has been a little harder to find anything online. I found a video that shows how it's played, but it's in Spanish. It's helpful, though. I can halfway understand spoken Spanish. It's a color matching and memory type of game.
Packesel seems to be simple. I imagine you choose colors of sticks and see who can stack them on the donkey without knocking the pile over. So far I haven't found anything in English about it.
This is more like a puzzle than a game. You arrange the pieces so all the colors match and have to make it work in a honeycomb pattern. There's only on solution. This game reminds me of
Scramble Squares
, which we also enjoy.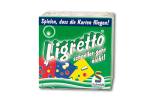 The final game is Ligretto, the green set. There are several sets, in different colors, to allow more players in a game. The gist of this one is to stack all your cards in order as fast as possible. Each player plays are the same time as everyone else, so no one is sitting around being bored. It's also a very quick game, which I appreciate!